Recent Election Results
2018
Peter Franchot (D) 50.9%, Anjali Reed Phukan (R) 49.0%
Larry Hogan (R) 81.7%, Ben Jealous (D) 16.9%
2016
Donald Trump (R) 69.4%, Hillary Clinton (D) 25.7%
Representation
Maryland's 6th Congressional District: David Trone (D) since 2019
State Senate
District 1: George Edwards (R) since 2007
State House
District 1A: Wendell Beitzel (R) since 2007
District 1B: Jason Buckel (R) since 2015
District 1C: Mike McKay (R) since 2019
County Commission
Dave Caporale (R)
Creade Brodie, Jr. (R)
Jake Shade (R)
Population
2010 Census: 75,087
2018 estimate: 70,975 (-5.48%)
Analysis
Allegany County is situated in the Western Maryland panhandle between West Virginia and Pennsylvania and like those Rust Belt states, is facing economic decline and population loss. The economic engine of the county and largest city, Cumberland, has been in decline since the 1950's as the area's industrial plants began to close, a process that has only accelerated since then. The last major plant in the county, the Luke Paper Mill, ceased operations just this year. It had been the county's largest private employer, and its closure will likely accelerate the rate of population decline in the coming years.
With Cumberland and neighboring college town Frostburg cut off from the rest of Maryland by the Allegheny Mountains, the rapid growth in the Washington metro region won't spread here. The county will likely continue to lose population until around 2030, then hit a floor that will be maintained by retirees, service workers, and Frostburg University employees.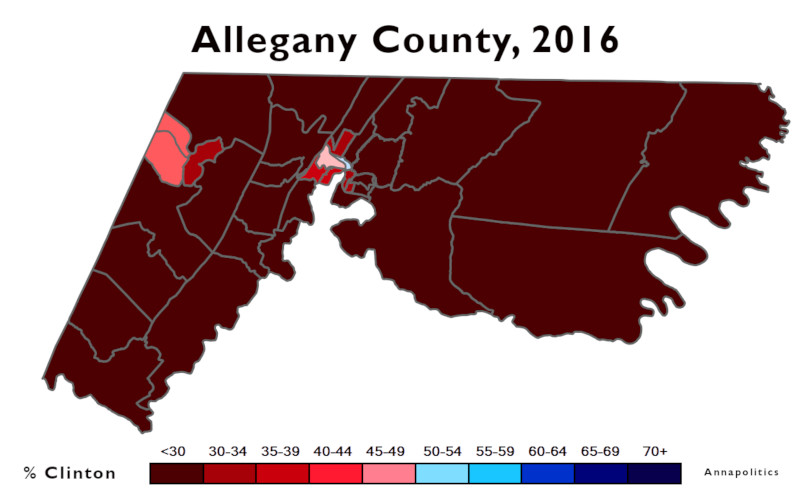 Politically, this county was reliably blue while there were a strong amount of blue-collar jobs. Looking at the election results map shows just how much things have changed. In 2016, only one precinct voted for Hillary Clinton over Donald Trump, and only by a narrow margin. Cumberland and Frostburg voted less overwhelmingly for Trump than the surrounding areas, but still chose his ticket over Clinton's.
Allegany is dark-red rust belt Trump country, and that likely won't change. What will change is that as Allegany County continues to lose population, its representation in Annapolis will decrease. The Cumberland area by itself used to support two Delegates. Now it only has one, and after the next Census and redistricting, Cumberland will most likely need to be combined with Frostburg to have enough population for a full State House seat.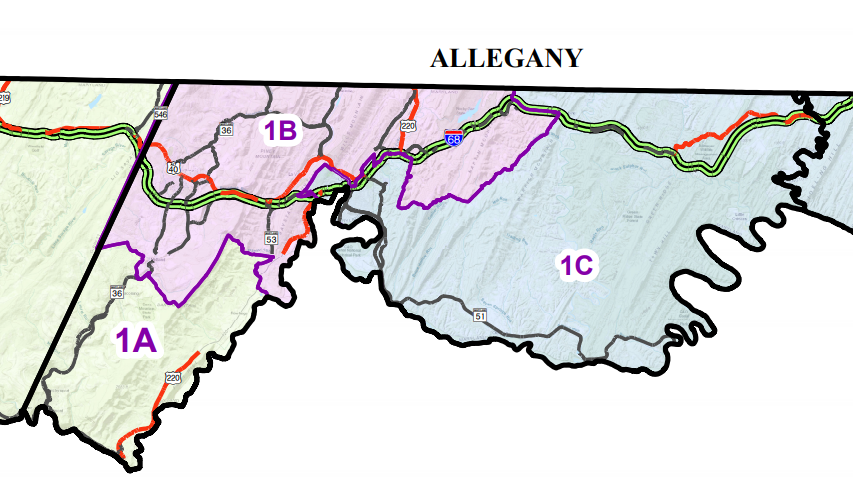 House of Delegates
In the 1990's, the Cumberland area was represented by Democrats Kevin Kelly and Casper Taylor in the House of Delegates; Taylor was actually the Speaker of the House, which afforded Cumberland and Allegany County as a whole a great amount of influence and they were always able to secure state funding for county projects. However, due to population loss, Taylor's District 1C was extended through the mountains and deep into rural Washington County to the east in 2002; Taylor was defeated by Republican LeRoy Myers that year. Kelly hung on in District 1B with increasingly narrow margins until he was finally and inevitably defeated, 59-41%, by Republican Del. Jason Buckel in 2014.
Allegany County also shares a small piece of District 1A with neighboring Garrett County, which like Allegany outside the cities has been reliably Republican for almost a century. District 1A is currently represented by Delegate Wendell Beitzel (R).
State Senate
There is only one State Senate district in Allegany County, District 1, and it stretches across most of Western Maryland. The current senator is George Edwards (R).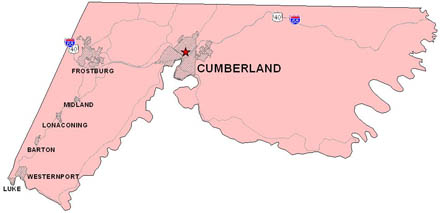 Municipalities
There are seven incorporated cities and towns in Allegany County, listed below in alphabetical order along with their next municipal election year.
Barton, 2020
Cumberland, 2020
Frostburg, 2020
Lonaconing, 2019
Luke, 2020
Midland, 2020
Westernport, 2020