Election 2018 Prediction: Anne Arundel County
Wealthy, well-educated and suburban, Anne Arundel County has had a Republican majority County Council since 2002 and a Republican County Executive since 2006. The county voted for the Republican presidential candidate every year from 1968 until 2016, when a narrow plurality supported Hillary Clinton.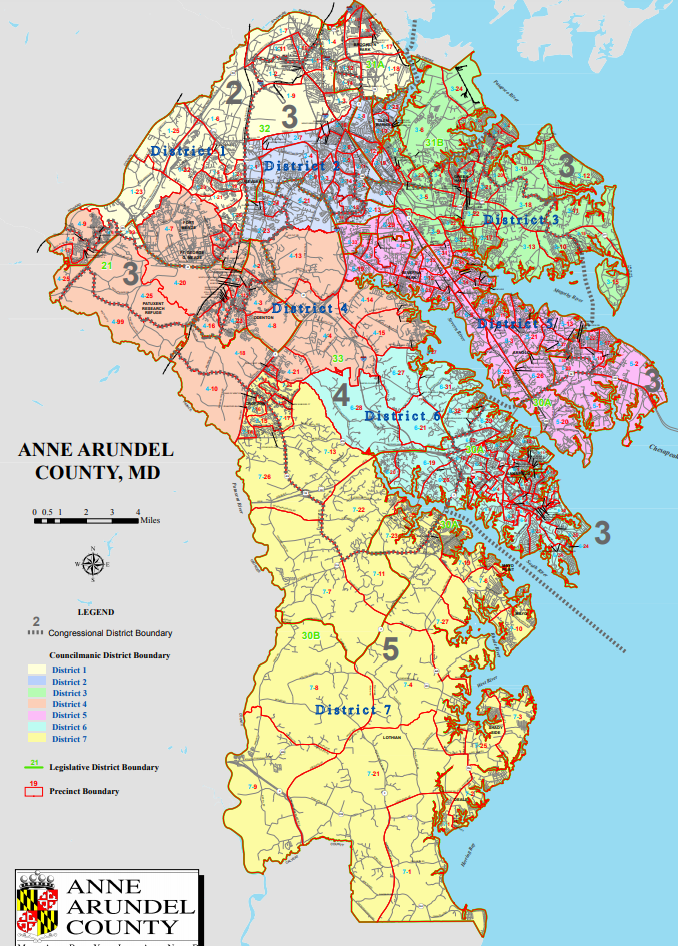 County Executive
Incumbent: Steve Schuh (R)
Challengers: Steuart Pittman (D)
Projection: Toss-up
Past Results:
2014: Steve Schuh (R) 61.1%, George Johnson (D) 38.7%
2010: John Leopold (R) 50.4%, Joanna Conti (D) 44.0%, Mike Shay (G) 5.4%
Anne Arundel County is evolving from a primarily white, rural, and conservative county to one that's more diverse, urban/suburban, and liberal. While the county as a whole has been slowly trending blue since 2006, conservatives still tend to win most of the downballot races, and there are still conservatives in both parties at the local level. Ironically, the rapid development encouraged by the Republican-controlled county government seems to be accelerating the county's shift away from conservatism. While some areas such as Linthicum, Pasadena, and Edgewater remain staunchly Republican, the fast-growing communities of Hanover, Severn, and Odenton have become Democratic strongholds. There is also evidence to suggest that the traditionally Republican suburbs of Arnold and Crofton are shifting from red to light blue.
What does all this mean for the race for county executive, where incumbent Steve Schuh (R) won with a 22-point margin just four years ago? Local incumbents tend to be re-elected as long as they don't suck. But Schuh does not appear to enjoy this kind of support. From the outset, Schuh seems to be playing the part of party machine boss, donating thousands of dollars to candidates he supports at every level of government, from board of education members to Annapolis city aldermen. This has led to the alienation and political exits of Laura Neuman, Jerry Walker, and Herb McMillan, all fantastic public servants. Then there's the question of Schuh's close ties with developers, and adopting the "one-size-fits-all" General Development Plan model for the county introduced by his predecessor John Leopold, rather than the Small Area Plans which were adopted with extensive involvement from the citizens of each community. Population growth has far outpaced the county's ability to build new schools and widen roads to accommodate the increased population. Environmental impact concerns have been completely ignored. And now Schuh is embroiled in a scandal involving his use of the county office to make personal attacks on his political rivals.
His Democratic opponent is Steuart Pittman, a horse farmer and small business owner from south county. Usually someone coming out of nowhere constitutes a very weak candidate, but Pittman has proved able to keep up with Schuh's fundraising in 2018. His focus on reining in irresponsible development and corruption has resonated with county voters from all parties, and he has earned the endorsement of former Republican County Executive Laura Neuman. Will Pittman's efforts be enough to overcome the well-organized Schuh machine? Only time will tell, but at this point I don't see a clear favorite in this race. Schuh's bank account dominates the field, but Pittman has political tailwinds. If anything, Schuh may have a slight advantage due to the county's history.
County Council
At the beginning of 2018, Democrats were strongly favored to win back control of the county council after 16 years. Now, their chances are much slimmer. Read below to find out why.
District 1 (Brooklyn Park, Hanover, Linthicum)
Incumbent: Pete Smith (D) – lost Democratic primary
Challengers: Sarah Lacey (D), Kim Burns (R)
Projection: Toss-up
Past Results:
2014: Pete Smith (D) 50.7%, Bill Heine (R) 49.2%
2010: Daryl Jones (D) 54.1%, John Moran (R) 45.8%
In a shocking development, Councilman Pete Smith lost the Democratic primary to Sarah Lacey, a civil rights attorney from Jessup. This provided an opening for Republicans to take over this district. District 1 has two very distinct parts: north county (Brooklyn Park, Glen Burnie, Linthicum) and west county (Hanover, Jessup, Severn). North county has 57% of the district's population but accounted for 67% of the votes in 2014. The reason for the disparity is that north county has a much higher turnout rate than west county. North county is composed of older, established communities while west county is experiencing rapid population growth. North county is also much more conservative than west county. Both candidates appear to be trying to run up their score in their respective part of the district: Burns in north county and Lacey in west county. The problem with this strategy for Lacey is that north county has more voters, and Lacey lacks the funds to run an effective district-wide campaign. This is a toss-up due to the ancestral Democratic lean of the north county communities of Brooklyn Park and Glen Burnie, but Kim Burns has to be feeling good about how this campaign season has gone so far.
District 2 (Glen Burnie, Severn)
Incumbent: John Grasso (R) – term-limited
Challengers: Allison Pickard (D), Tom Gardner (R)
Projection: Lean D Gain
Past Results:
2014: John Grasso (R) 52.6%, Andy Werner (D) 42.9%, David Sgambellone (L) 4.4%
2010: John Grasso (R) 53.2%, Dan Klosterman (D) 46.6%
John Grasso is term-limited and running for State Senate. Allison Pickard is a former school board member and has run a vigorous campaign. Tom Gardner has been running a sleepy campaign and seems to be relying heavily on Schuh's support for his win. If Pickard doesn't win this district in this year, Glen Burnie is no longer winnable turf for Democrats.
District 3 (Pasadena)
Incumbent: Derek Fink (R) – term-limited
Challengers: Debbie Ritchie (D), Nate Volke (R)
Projection: Strong R Hold
Past Results:
2014: Derek Fink (R) 73.0%, Theresa Belinda Martin (D) 26.8%
2010: Derek Fink (R) 58.3%, Charlie Parks (D) 41.6%
Pasadena has rapidly become a Republican stronghold, especially after 2006. In fact, the last time a Democrat won District 3 was Shirley Murphy in 1998. The last Democrat to run a serious campaign here was Murphy in 2002. This year it's different, as former school board member Debbie Ritchie is running a strong grassroots campaign. The Republican in the race is the chairman of the county Republican Central Committee, Nate Volke. This district is so red that Volke will walk away with the race, but we should at least be able to see a reasonable vote ceiling for Democrats in this district.
District 4 (Maryland City, Odenton)
Incumbent: Andrew Pruski (D) – running for re-election
Challenger: Torrey Snow (R)
Projection: Strong D Hold
Past Results:
2014: Andrew Pruski (D) 57.5%, Chike Anyanwu (R) 42.3%
2010: Jamie Benoit (D) 60.0%, Charlotte Weinstein (R) 39.8%
Odenton and west county have experienced rapid growth in the last decade or so, and politically this area is beginning to resemble neighboring Howard County in its increasing support for Democrats. There is a bright political future ahead for Andrew Pruski, especially as west county begins to flex its economic and political muscle. Pruski is one of the most popular public servants in the county, and will win re-election comfortably against a poorly-funded opponent.
District 5 (Arnold, Severna Park)
Incumbent: Michael Peroutka (R) – lost Republican primary
Challengers: Dawn Myers (D), Amanda Fiedler (R)
Projection: Lean R Hold
Past Results:
2014: Michael Peroutka (R) 52.8%, Patrick Armstrong (D) 46.6%
2010: Dick Ladd (R) 62.8%, Paul G. Rudolph (D) 36.9%
This district is located on the Broadneck Peninsula, and contains many of the most affluent suburbs of Annapolis. This has long been a conservative stronghold, but disdain for President Trump has sparked a strong progressive movement on Broadneck and a healthy grassroots organization supporting Dawn Myers, the Democratic candidate. Myers would have been favored to win against the incumbent councilman, Michael Peroutka, but he lost the primary election to Amanda Fiedler, who is now the favorite to win here.
District 6 (Annapolis)
Incumbent: Chris Trumbauer (D) – term-limited
Challengers: Lisa Rodvien (D), Michael Christman (R)
Projection: Strong D Hold
Past Results:
2014: Chris Trumbauer (D) 51.3%, Dean D'Camera (R) 48.7%
2010: Chris Trumbauer (D) 52.8%, Doug Burkhardt (R) 47.2%
Annapolis has become very blue in the past decade, although local Republican candidates still perform well downballot. Lisa Rodvien, a teacher, won a heavily contested Democratic primary and faces former Annapolis Alderman Michael Christman. In addition to the Democratic advantage in enthusiasm, a strong progressive movement in Annapolis will propel Rodvien to victory.
District 7 (Crofton, South County)
Incumbent: Jerry Walker (R) – term-limited
Challengers: James Kitchin (D), Jessica Haire (R)
Projection: Likely R Hold
Past Results:
2014: Jerry Walker (R) unopposed
2010: Jerry Walker (R) 61.5%, Torrey Jacobsen (D) 38.3%
South county runs from suburban Edgewater in the north to rural Tracey's Landing in the south. One thing all these communities have in common is that they are very conservative. The progressive fire that is burning hot on Broadneck does not seem to have spread to the southern Annapolis suburbs. The same cannot be said for Crofton, which is also included in District 7 and is pretty evenly split, having trended bluer from its original conservative roots. Jessica Haire is likely to hold this seat for the Republicans, but if the blue wave turns into a blue tsunami, Kitchin may pull out an unlikely win.